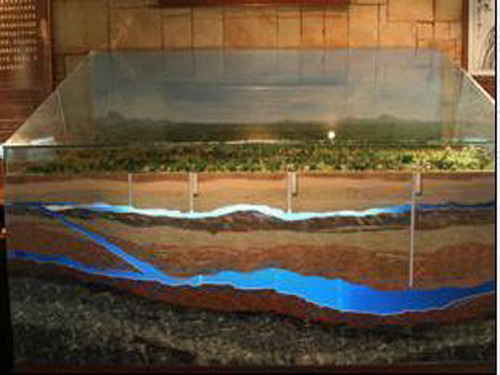 Zhang Zuochen, vice president of the China Geological Environment Monitoring Institute, disclosed in Beijing on the 29th that after the implementation of the current groundwater quality standards for nearly 20 years, the official plans to amend it. At present, the first draft of the new standard has been completed and will be issued after being reviewed by the National Standardization Management Committee.

The current groundwater standard implemented in China was established in 1993. At the press briefing held by the Ministry of Land and Resources on the same day, Zhang Zuochen stated that as China's economic and social development and understanding of groundwater conditions continue to deepen, the standard needs to be revised.

He said that taking into account the effects of national human engineering activities on groundwater environment in the past 20 years, the new standard will increase and revise some specific standards and will be more perfect than existing standards.

Regarding the current status of groundwater monitoring in China, Zhang Zuochen disclosed that as of the end of 2013, there were approximately 16,000 groundwater monitoring sites of all types and levels in China, with a monitoring area of ​​approximately 1.1 million square kilometers, including 2,000 water level flow monitoring sites, and a national groundwater monitoring network. The construction started to take shape. However, there are still many problems such as the lack of national-level groundwater monitoring points, low level of automation monitoring, low monitoring capacity, and failure to meet the requirements of economic and social development.

To this end, relevant departments such as the Ministry of Land and Resources and the Ministry of Water Resources have already deployed national groundwater monitoring projects in the next three years. Among them, the Ministry of Land and Resources will establish 103 national groundwater monitoring sites. After completion, water will be collected, water testing will be carried out, and automatic collection and monitoring of data such as water level and water temperature will be achieved.

The above-mentioned new construction combined with the existing groundwater monitoring station network can form a relatively complete national-level groundwater monitoring station network, providing timely, accurate, and comprehensive groundwater dynamic information for the society.

The Ministry of Land and Resources promulgated the "Measures for Geological Environmental Monitoring and Management" this year and will implement it on July 1. It includes monitoring of geological environment such as groundwater, geological disasters, and mines.

According to reports, this policy has relevant provisions in the aspects of organizational implementation, network construction and monitoring results, and also clearly defines the major responsibilities of the land and resources authorities at all levels.
gas airless sprayer is very powerful machine for professional contractors who spray a wide variety of coatings on residential, commercial, and industrial jobs. It is equipped with famous quality HONDA engine, Germany INA bearings, gears with level 5 grinding etc. It can finish spraying without space limit and voltage limit. Gas Airless Paint Sprayers supports to work with two guns.
Gas Airless Paint Spray Machine Advantage
1) Guaranteed Power Source
High quality HONDA engine provide guaranteed reliable power.
2) Smart Pressure Control system
Advanced microprocessor control delivers a consistent spray fan at all spraying pressure.
3) Easy Out Manifold Filter
Easy out manifold filter will reduce the tip clogs and ensure you nice finish. The pump filter
could be disassembled by hand easily.
4) Stainless Steel Rack.
Stainless steel rack with retroverted design for easily putting hose.
5) ProConnect System
ProConnect system makes pump replacement easy and fast
6) Pneumatic Tire
Equipped with pneumatic tire, machine could go anywhere.
Gas Powered Airless Sprayers,Airless Sprayer,Wall Painting Machine,Large Torque Gas Powered Airless Sprayers
Fuzhou HVBAN Mechanical Equipment Co., Ltd. , http://www.hi-sprayer.com